Director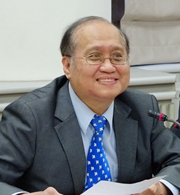 It is my pleasure to be appointed as the Director of the ICLPST Administrative Office since September 2016. I have witnessed the Center not being daunted by the difficulties such as budgetary constraint and personnel scale-down, and still retaining its passion and calling to contribute to the international society through conducting international training courses. Furthermore, the Center have been upgraded its hardware and software to provide a better environment for training courses and flowing connection around world. I would like to express my appreciation to my colleagues at the Center for their efforts and commitments.
Through these trainings, Taiwan's image of prosperous agricultural developments is made known to the world. Thanks also go to numerous domestic agencies, research institutes and organizations, which always accord warmest reception to our participants during field trips and enlighten the participants with their professionalism and precious experiences. On top of all these, our course coordinators and lecturers have all conscientiously committed themselves to making all training courses a success.
I believe that the entire staff of the Center will keep working on every possibility to improve our service and make the training even more effective and productive. In this way, the societies of Taiwan and the participating countries of the trainings will all benefit and move toward a better future.
Jack Kuei-son SHEU
Director